Mobile Showroom
Shopping for new floor coverings can be a challenging task, but a mobile flooring showroom takes shopping to a whole new level. Stand By Flooring will not only bring the shopping to you, but we will also provide you with an in-home estimate. We understand how important your floors are to you and will do everything possible to ensure that you have exactly what you want and need. We welcome you to call us at your convenience to schedule a visit to Gaithersburg and all the surrounding areas of Maryland. We are excited to serve you!
You may believe that you are better off being able to travel to a physical storefront yourself, especially if you have a busy schedule. However, the more hectic your schedule, the greater the benefit of contacting a mobile business. Why waste time driving to and from a store if you only have a short window of time between appointments?
All you have to do is call us, tell us what time frame you're working with, and when we need to be there. You'll have more time to focus on what matters – your new floor covering – because you'll be able to browse at your leisure.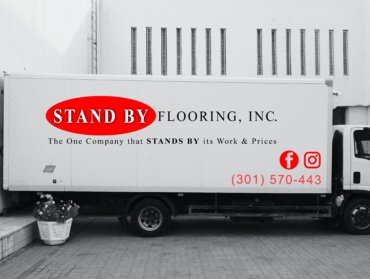 Another advantage of using a mobile showroom is that the flooring samples will already be in your home. A lot can change because lighting differs greatly between a showroom floor and your own home. Colors may appear different, tints and hues may change, and things may not match as you expected. When we show you a sample, you'll get exactly what you see. That is very important to us.
When planning an estimate, a mobile showroom makes a lot more sense. Because our flooring professionals are already in your home, they can take precise measurements, identify any problem areas, and discuss any other pertinent flooring information you may have.
Request a Free Estimate
We're here to help you get started in the right direction with your project.
Connect With Us
After we get some information from you, we'll set up a time to discuss your project in further detail.