Staircase and Railing
A staircase, whether in a home or a business, can not only provides function but also transform your entire space! Even if you only have a hazy idea of what you want, our decades of experience can help you turn your vision – your dream – into reality. Your home's stairs are a significant architectural feature that should be welcoming, beautiful, and inspiring. The appearance of your stunning staircase should leave your guests speechless. Stand By Flooring, located in the Mooney Drive, Gaithersburg, MD region and serving the entire DC Metropolitan Area, offers a vast range of types and designs to complement your house, from traditional to modern and contemporary.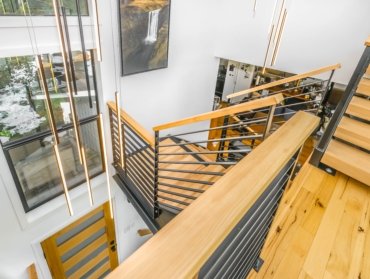 Our goal at Stand By Flooring is to give our customers high-quality workmanship and great customer service.
We are a full-service stair company that offers a wide range of products and services, as well as many years of experience with various sorts of stair services. We specialize in determining what our customers want and delivering it to them. We work and design with all types of stairs and stair products.
Stand By Flooring can design all forms of railings for new or existing staircases, as well as numerous types of stairs. When discussing stair and railing projects with customers, we strive to enable them on stair design terminology. Take a look at this list of popular stair styles to understand more about the stair kinds we provide and the terms we use during the planning process:
We have been providing Hardwood, Carpet, Tile & Stone, Laminate, Vinyl, Engineered Wood, Staircase & Railing, Kitchen Remodeling, and Bathroom Remodeling installation and upgrades for years in Gaithersburg, MD. Call us at (301) 570-4443
Request a Free Estimate
We're here to help you get started in the right direction with your project.
Connect With Us
After we get some information from you, we'll set up a time to discuss your project in further detail.